LeBron James has had a weird season. It started with the opulent but well-intentioned icebreaker of carting the Lakers roster to Las Vegas for pre-season workouts. There were eight new players on the team, each less mercurial than the disparate pieces James had hand-picked last season, and it was an opportunity to accelerate some chemistry between them in the most artificial and ostentatious place on earth.
James had, of course, organized everything. They would stay at the Wynn, they would train for approximately 2.5 hours every day, they would attend dinner together every night. They were told they would all individually pay their own way. It was a sumptuous trust fall and they hadn't even signed Dwight Howard or Dion Waiters yet.
The preseason stayed strange. The Lakers played the Warriors, went to China to play the Nets right as diplomatic relations between the league and China fell apart, and then got back to California and played the Warriors three more times. They opened the season against the Clippers, because it was hard for the league to resist the lure of rekindling a western code writ large, a tangle of the two largest in the league even if that town, Los Angeles, had always been big enough for the both of them. It was home court for both, but the Clippers took it, launching immediate questions about James and the Lakers place in the West and whether they had been usurped at the top before ever getting to stake claim to that position.
The Lakers rebounded quickly and were golden through to December, with the Raptors the only ones to whip in like the Santa Anas and knock a team working to shed the inconsistent gap-year of the season before off its win streak. It wasn't that James finally had all the pieces he wanted alongside him propelling the team to so many wins, though a happy Anthony Davis didn't hurt, it was that his position on the floor caught up to the role he'd been assigning himself since Miami. A rose is a rose is a rose, and James, in any other position, was the person telling the entire roster exactly where they needed to be and when, but to give him the full naming rights to that power gave a new accelerant to a career many claimed to be downshifting.
It also worked in all the ways new Lakers coach Frank Vogel needed it to. James would lend his authority to the franchise no matter what, it was part of the deal — and appeal to team ownership — of his tenure in L.A. Vogel just opted to ask James to switch to point, to take control, rather than being told. It created a new kind of coachability in James even if it was primarily optics, that Vogel was getting something new out of him when in essence he was asking James to focus his energies exclusively on something he had done, gratis, all along.
But it wasn't a divergent or a ploy, because more did come from James this season, and in entirely new ways. His assists per game climbed to a career high of 10.6 while his points per game stayed steady, on track to clock in at his career average of 27. He kept out of the paint and aimed long, full-court torpedo passes to Davis and Danny Green as they rushed to the net. He launched backward, no-look hooks to Howard, Alex Caruso, and these soaring, mid-air lobs where only when he'd gotten to the height of his jump would he swivel his head slowly to see who had stayed with him down the stretch and, with a flick of his wrist, reward them.
It is never enough for James to dominate, he has to take the action, the entire statistical category, and adjust our perspective of what's possible — physically, analytically — through his own framing. When this season stalled out, James had helped with 50 percent of his teammates baskets, a career high that placed him first in the league overall in assists. To put it in gentle perspective, it has historically been players like John Stockton, Steve Nash and Chris Paul, pure point guards, that dole out this kind of consistent, intuitive help.
The duality of James extends beyond his role as scorer and facilitator to the experience of watching him. He appeals to the rigid analytic set as much as the gut-check set. The new fan, fans who stubbornly insist they are over him, even those who claim to hate him, consider him overwrought and overrated, will follow his consistently improving career closely, thin-toothing it for faults and finding none. That exceptionalism has been the co-pilot driving his career is at once defining and to his detriment. What James has spent nearly two decades building is the exception. The example he works flat out to set is one of hard work, integrity and excellence, these aren't bluffs, they are intrinsic to him as the rarity of his talent.
But the encapsulation of those ethics, the conduit for that talent and the drive that pushes it all forward again every day is singular to James. You can't be him, but he has made it possible through his philanthropy, his athleticism, his advocacy, his professional acumen off the court, his role as a father, and any number of the other multitudes he has worked to contain to be like him, a little, in those pursuits.
There are more odious and awful underpinnings that crop up around James's public character that have nothing to do with him and everything to do with the unrealistic expectations put on people of color who hold the space of their success. He isn't granted the same anonymity that comes with being white and successful. He cannot slip into a shroud of invisibility and move with greater ease around a world where he will be asked, as he ascends, to explain himself less and less. His success, to many, is his qualifier and something he has to regularly account for, when it should be the other way around. That James works three times as hard as anyone around him is simultaneously an internal part of his person and a direct result of the pressure put there by a deeply racist and irrevocably damaged culture.
In his game, his shouldering the stigmas bound up in his success, James has shown he is adept at shifting between the characters both he and his career have created, but it's impossible to delve into the scope of James's duality without looking to where it's most limiting.
In the constant comparisons of him to Michael Jordan, to Kobe Bryant, players who, if they had one thing in common, was the weight and scope and pressure to alter the league to better reflect them in it, we have to flatten history to make it better connect. Depth is lost. But how we pit things, place them sharply side by side, is founded in our fears, our shortcomings, our deepest and most concealed desire than it is on the logic that those two things had any one in common.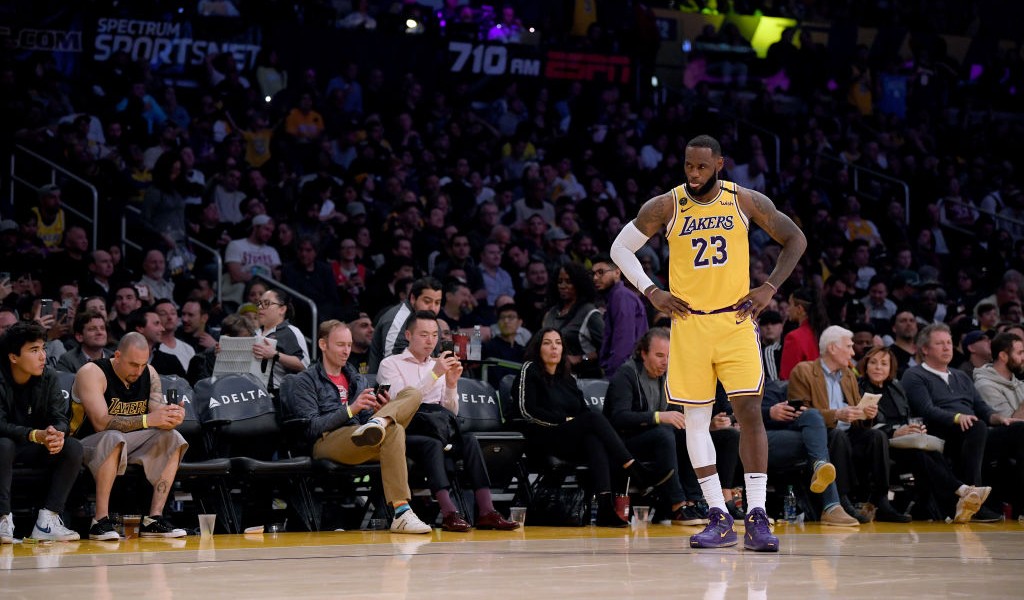 James and Bryant overlapped. James played in the landscape Bryant had essentially terraformed to match his personality, his impulse. It was more unforgiving, repressed enough that emotions sat seething and pressurized just below the surface. Their relationship was initially established around absence. Not meeting in the Finals as they proceeded to leapfrog the other for a decade. Later, the dyad became Bryant segueing to James. Not overtly, but in how vehement his fans rejected James, refused to recant on James being anything close to what Bryant was for the Lakers. To James, this was always obvious. The goal was to shift into the last (likely) iteration of himself, rare in how singular. Lakers fans are governed by their own particular set of shifting rules, as mirage-like and hazy as golden hour falling on Sunset Boulevard like a shroud, but at some point they decided, probably when he brought them Davis, that James was theirs now. The only version. Exactly as James always meant it.
It was crystallizing and seizing, in the way explicitly violent timing always is, that James would pass Bryant's team record, be congratulated by Bryant in a rare and increasing moment for Bryant where he seemed at ease with a career referred to in past tense, the day before Bryant would die.
James doesn't get to have his own career with the Lakers, it became, this past winter, elegiac. But his wide-openness, his disbelief and grief in the weeks that followed, leading his peers, fans and the league in their shock and the encouragement to express it, became enough, finally and terribly, to put the comparison to rest.
With Jordan, there is no point. One's universe was shrinking while the other's exploded out. There was no overlap, not even in culture or league landscape. Their language — court, conversational — wholly different. There's not going to be any gotcha or analytical basis for what is entirely feeling, preference, the blithe alignment of staking a personal claim. Demanding there be a greatest of all time is to already give up on anything that comes after.
James's career, in the lurch of this season, has not been shortened or derailed any more than the moon will, shrouding in phases, still be capable of pulling at tides as a lucent hangnail. He will fold the strangeness of this stretch, it's urgency, into a usable outcome, optimize the hiatus as nothing more than a deep, diaphragmatic breath before vaulting back to where he was, already in motion, eyes placidly fixed to the horizon where all the lines meet.