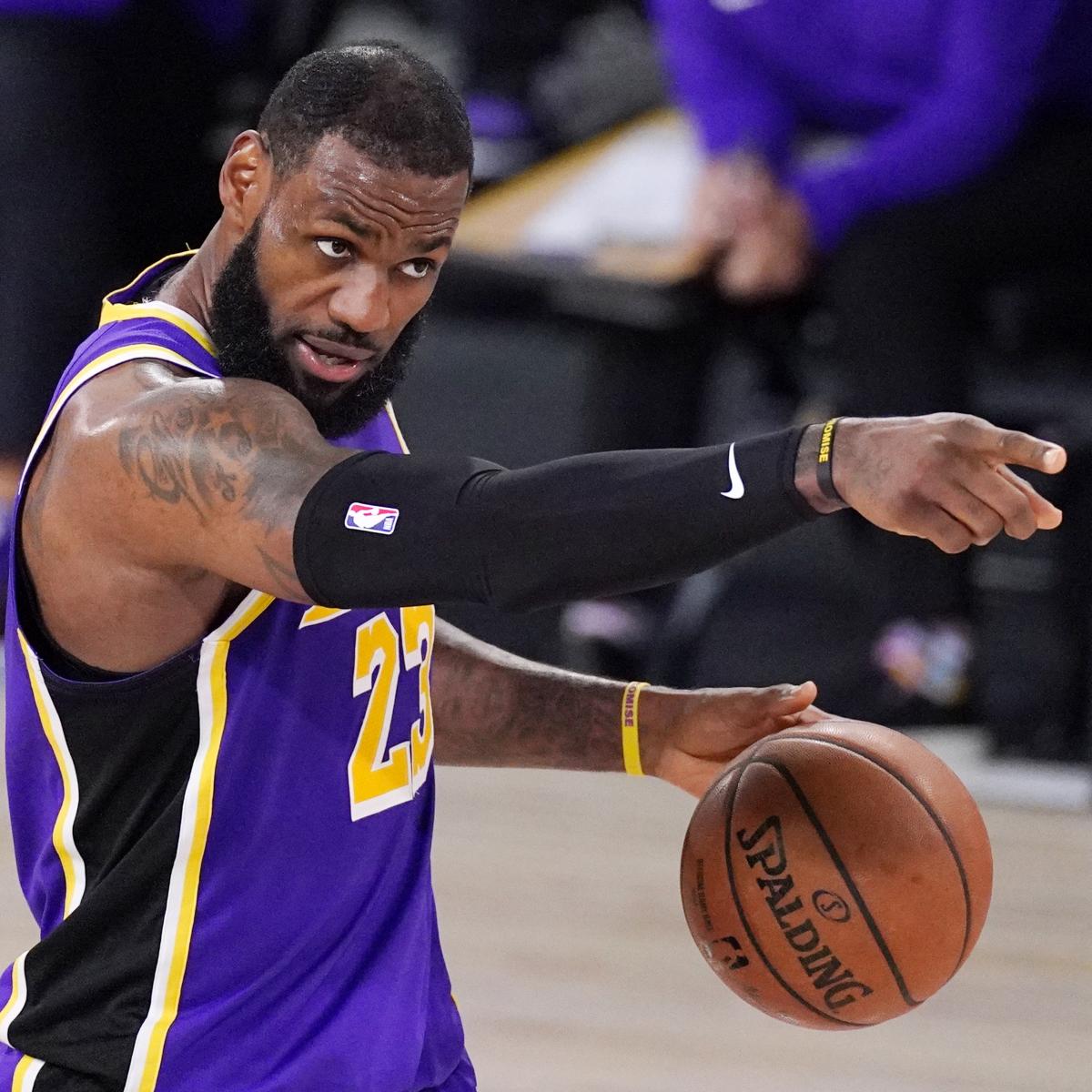 Mark J. Terrill/Associated Press
We're set for the first-ever NBA Finals in a bubble. The Los Angeles Lakers will attempt to capture their 17th title while the Miami Heat go for a fourth reign.
Among the biggest storylines, keep in mind Lakers star LeBron James went to four NBA Finals in Miami, won two and returned to the Cleveland Cavaliers to help lead that franchise to its first championship. Heat president Pat Riley told ESPN's Wright Thompson in 2017 that he took the split personally and needed to exercise restraint. 
"I was very angry when LeBron left. It was personal for me," Riley said. "It just was. I had a very good friend who talked me off the ledge and kept me from going out there and saying something like Dan Gilbert. I'm glad I didn't do it."
Riley rebuilt the Heat and kept head coach Erik Spoelstra. Now, his fifth-seeded squad heads into this series as the underdog against James and his new star partner Anthony Davis.
On paper, the Lakers will have the two best players on the court in James and Davis, but the Heat have quality depth behind five-time All-Star Jimmy Butler and his teammates Bam Adebayo and Goran Dragic, who each have an All-Star season on their resumes. Miami also has a rookie sensation in Tyler Herro. He's come on strong during the playoffs. Andre Iguodala has championship experience with the Golden State Warriors.
Let's dive into the title odds, courtesy of FanDuel, the full schedule and a few predictions for the 2020 NBA Finals.
NBA Title Odds 
Los Angeles Lakers: -370 (bet $370 to win $100) 
Miami Heat: +290 (bet $100 to win $290)
Odds courtesy of FanDuel.
2020 NBA Finals: Series Schedule
Game 1: Los Angeles Lakers vs. Miami Heat, Wednesday, September 30 at 9 p.m. ET on ABC
Game 2: Los Angeles Lakers vs. Miami Heat, Friday, October 2 at 9 p.m. ET on ABC
Game 3: Los Angeles Lakers vs. Miami Heat, Sunday, October 4 at 7:30 p.m. ET on ABC
Game 4: Los Angeles Lakers vs. Miami Heat, Tuesday, October 6 at 9 p.m. ET on ABC
*Game 5: Los Angeles Lakers vs. Miami Heat, Friday, October 9 at 9 p.m. ET on ABC
*Game 6: Los Angeles Lakers vs. Miami Heat, Sunday, October 11 at 7:30 p.m. ET on ABC
*Game 7: Los Angeles Lakers vs. Miami Heat, Wednesday, October 13 at 9 p.m. ET on ABC
*Game played if necessary.
Tyler Herro Scores Career-High 40 Points in a Win

Mark J. Terrill/Associated Press
Herro elevated his performance level during the postseason, averaging 19.2 points per game through the first three rounds—up from 13.5 points per contest during the regular season. He's provided a huge spark off the bench as the sixth man. The 20-year-old can take over with a mix of nifty moves on drives to the basket and three-point shooting.
In Game 4, against the Boston Celtics, Herro scored a career-high 37 points on 14-of-21 shooting, knocking down 5-of-10 from three-point territory.
When Herro feels confident in his shot and ability to break down the defense, he's hard to stop inside and outside the paint, especially for a second unit without an elite defender.
Regardless of the series outcome, Herro will put his best on display with a 40-point game as the Heat's most dynamic scorer.
LeBron James Averages Triple-Double

Mark J. Terrill/Associated Press
Although he didn't win league MVP, which is a regular-season award, James will make the best case for NBA Finals MVP. Yes, he plays alongside another star in Davis, who's had his shining moments during the postseason, but we saw no sign of a slow down in the 35-year-old and arguably the best basketball player in the world. 
In fact, James seems even more driven this year. Of course, he probably has the late Kobe Bryant on his mind and what it means to lead the Purple and Gold back to ultimate glory. The Lakers star acknowledged he's fine with added responsibility because some of his teammates haven't reached NBA Finals in their careers:
In Game 5 against the Denver Nuggets, James took over down the stretch to close out the series. He's likely to do so again if Los Angeles pushes Miami to the brink of elimination.
Despite a 4-1 series loss to the Warriors in 2017, James became the first player to average a triple-double for an NBA Finals, per ESPN Stats & Info. He'll accomplish the same feat this year in hopes of a more favorable series outcome.
NBA Finals Series and MVP Predictions


Mark J. Terrill/Associated Press
After Los Angeles eliminated Denver in five games with a 117-107 victory Saturday, NBA Hall of Famer and TNT analyst Shaquille O'Neal heard from a source that the Lakers wanted to play the Heat in the NBA Finals (h/t Barry Jackson of the Miami Herald):
Well, ask and you shall receive. The Heat closed their series with the Celtics in six games Sunday.
While the Lakers will have the two biggest stars on the court in James and Davis, the Heat can pose a threat with their three-point shooting. During the playoffs, Miami has made 13.3 triples per contest compared to 11.3 for Los Angeles.

Mark J. Terrill/Associated Press
The Lakers will need more from their role players to support James and Davis. Kyle Kuzma, Dwight Howard, Danny Green, Kentavious Caldwell-Pope, Markieff Morris, Rajon Rondo and Alex Caruso all need to play key roles in this matchup.
With the fifth-best defensive rating (107.8) among the 16 playoff teams, Los Angeles has to maintain its solid defense. Howard should play quality minutes as a rim protector with Butler averaging 9.2 free throws per outing. He'll likely match up with Adebayo in the paint as well.
Green, Caldwell-Pope and Morris have shown they're capable of knocking down three-pointers in spots. The Lakers have shot 35.5 percent from beyond the arc. If James and at least two role players knock down open shots with consistency, Los Angeles should capture its 17th NBA title.
James isn't going to pass the torch to Davis just yet, though. If the Lakers win, he's going to carry them to the finish line with a spectacular NBA Finals performance, averaging a triple-double.
Prediction: Lakers win in six games; James earns fourth NBA Finals MVP.
Read More…

https://bleacherreport.com/articles/2910819-nba-finals-2020-heat-vs-lakers-schedule-format-predictions-and-odds